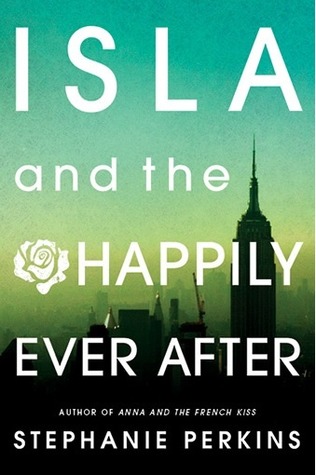 Isla and the Happily Ever After by Stephanie Perkins
Anna and the French Kiss #3
Published: August 14th, 2014
From the glittering streets of Manhattan to the moonlit rooftops of Paris, falling in love is easy for hopeless dreamer Isla and introspective artist Josh. But as they begin their senior year in France, Isla and Josh are quickly forced to confront the heartbreaking reality that happily-ever-afters aren't always forever.
Isla and the Happily Ever After was an amazing finish to one of my favorite series. The great new characters of Isla and Josh were explored as well as old ones re-entering the mix. The ending is bittersweet because it is
the end
, but Perkins managed it all along with wrapping up plot-lines that I'd completely forgotten about.
My love for Paris exploded when I read Anna and the French Kiss. I'm going to be totally blunt: I don't reread books. I have too many other books I want to read and I'm racing against the clock. But I've reread Anna and the French Kiss many times. On sad days, on rainy days, and even on gorgeous summer days (like today, which I've of course spent inside.) That book is
the
romantic story for me. Lola and the Boy Next Door was just as dazzling, if not capturing the same level of magic. Getting back to the point, Isla and the Happily Ever After was a return to Anna's original magic and I tasted in it what was raw, awkward and amazing first love. I got the chance to visit Paris and Barcelona this past February, so everything was especially dazzling and real when I dove into Isla and the Happily Ever After (to my mom's annoyance, I kept pointing out random lines to her!)
Isla was real, she was flawed, she was smart, and she could be an idiot at times. I loved her from the first chapter when she acted like a drugged up fool. She loved dresses and turned mousy around her siblings. Being with Josh was a challenge that she took with as much ease as can be expected. The only unrealistic things about her were that 1) were her cheeks not puffed up to the max? and 2) she did not end up applying to any safety schools! I mean really, you gotta have a backup plan.
After loving Anna and the French Kiss with all my heart, you have to understand how much I was looking forward to having Josh as a love interest. I was not disappointed. The sulky boy from Anna and the French Kiss was transformed and, while still sulky at times, was intriguingly complex. I loved Perkins' description of his art; it felt as if I was seeing it with my own eyes.
The qualms I had with this book were very minor and almost not worth mentioning. Isla and Josh's romance got sappy at points and their
sobbing made me doubt the legitimacy. At other times, I felt that the cause of their fights were muddled and unclear in the goings of the plot.
Overall, the ending was absolutely adorable and had me in near tears on a public bus. Not many books can cause me to smile and laugh out loud. Isla is a quirky and lovable read. I can't wait to read whatever Stephanie Perkins writes next!